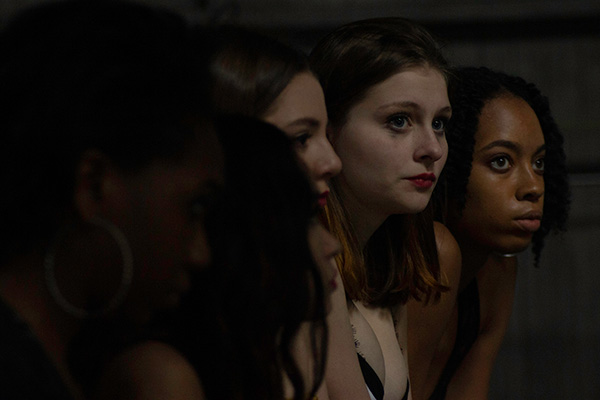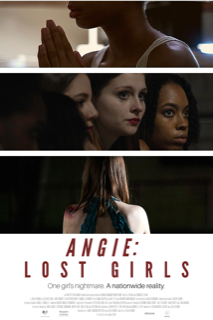 It's the story of another epidemic in this country and around the world – child trafficking.
Angie: Lost Girls  is a new film streaming nationwide on December 18th, 2020. It's the story of another epidemic in this country and around the world – child trafficking. As a narrative feature, it tells the story of Angie Morgan, a teenage girl living in a normal sububan home with caring parents who falls prey to the traffickers, finding herself caught in their web with little hope of getting out. As she is caught in the ring, being brutalized by her captors and the men she is forced to encounter daily, her parents and the police work feverishly to rescue her. It is a story of heartbreak, courage and hope which casts light on a subject few people want to accept can happen anywhere. The film will be available to rent and own on North American digital HD internet, cable, and satellite platforms on December 18, 2020, followed by a DVD release date on December 22, 2020.
Playing the lead Angie is newcomer Jane Widdop. Dylan Sprayberry (CW's Teen Wolf) ) is the teenage boy that lures her into this world. Her parents are played by Olivia D'Abo (The Wonder Years, Law & Order, Star Wars: Clone Wars) and Randall Batinkoff (Bad Grandmas, DC Legends of Tomorrow, Relativity). Other cast include Anthony Montgomery (The Family Business, General Hospital, Star Trek: Enterprise), MC Lyte (Girls Trips, SWAT, Patti Cake$), and Cherie Jiminez (Pretty Little Liars, Nova Vita).
The movie was made by writtten and directed by the award-winning filmmaker Julia Verdin, co-written by Janet Odogwu. Julia states, " A few years ago I volunteered in a children's shelter for runaway teens and learnt that many of them had been trafficked.  After hearing the heartbreaking stories of what they had gone through, it became an issue I could not look away from and after a lot of research and talking to many experts in the field, I came up with the story for the film.  Education leads to prevention and my hope is that this film will help to educate teenagers and families on trafficking –  if a teenager or parent or anyone else recognizes signs and reports it- they could save that teenager from years of hell.  This project was made with the love and support from so many.  If all would come together and say time's up on child trafficking, change could be possible!"
Several of the females behind this film speak out on how something needs to be done nd why they were drawn to helping make this film.
Emmy-winning actor Cady McClain (Director, Seeing is Believing, Women Direct, Jennifer on Days of Our Lives), states,  "Having grown up in show business, I have seen firsthand how young people can be abused.  When I saw Director Julia Verdon's short film on the same subject in her home in Los Angeles I knew I had to do whatever I could to help her get her feature film made.  Her handling of the subject was honest and thoughtful, with an eye toward revealing the pain from both the parents and the children's perspective, which I felt was important.  I was also deeply inspired by her commitment to making sure the film was used as a tool to raise awareness and stop the trafficking."
Review of Angie: Lost Girls:
Suzanne Ordas Curry, Associate Producer (Equity, Tainted Dreams) finds hope because this movie is streaming. She states, "During the pandemic, there has been an uptic in watching movies online. Since the movie will be available widely online, we hope that word of mouth will spread so we have the largest audience possible. We will be working social media to help get the word out to the people it could most help – young girls. Going forward, we will be holding special screenings for organizations interested in it. On the website you can find out more information on this."
Associate Producer Sally Coda believes it is a national public health crisis and a civil rights violation. She states, "Victims come from all walks of life and can be found everywhere: sporting events, motels, truck stops, in cities, in rural areas, and in the suburbs. Some estimates indicate an inconceivable total of 25 million victims globally. Stricter legislation needs to happen on local, state and national levels to prosecute perpetrators."
Freestyle Digital Media, the digital film distribution division of Byron Allen's Entertainment Studios, has acquired North American rights to the drama . It is produced by Verdin, Sean Acosta, Jason Piette, Cady McClain, and Morris S. Levy; Executive Producers are Sterling Youngman, John Jacobs, Wafic Said, Greg Clark and Victoria Hill, Associate producers are Suzanne Ordas Curry, Sally Coda and Sam Cortez. The film won Best Feature Film at the Moving Parts Film Festival in Los Angeles, as well as the Best Actress award for Widdop and is in competition at the Rome Independent Film Festival.
This film is produced by Artists for Change, a non-profit committed
to producing films with social impact. 
For more information visit: 
Special Event:
A Virtual Fundrasier on 12/20/2020 at 2pm PT 5pm ET