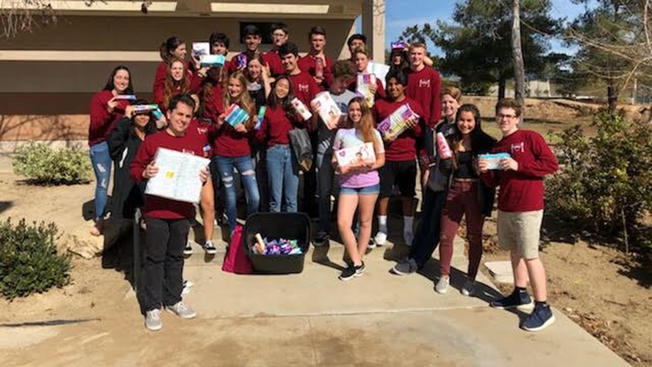 By Megan Edwards Via NBC San Diego
January was National Sex Trafficking Awareness month, but a few local teens are dedicating the entire year to educating their communities about San Diego's underground sex industry.
"I think it's essential for other teens to know about trafficking. Not only so they can be educated on an important issue, but also so that they can avoid it themselves," said Sage Creek High School student Avalon Greenberg Call.
Call is one of the students involved in teen leadership programs run by Jewish Family Services.
Members of Hand Up and Girls Give Back got together with San Diego Youth Services in January to learn about the sex trafficking trade in America's Finest City.
Many of the teen leaders organized charity drives at their schools to collect donations for victims of human trafficking. But a handful decided one month was not enough time to make a significant impact.
Sixteen-year-old twin brothers Max and Ilan Matkovski founded the Homeless and Hunger Awareness Club at West Hills High School.
During a two-week drive, the brothers and their fellow club members collected dozens of items that are being donated to trafficking victims.
"We've collected hygiene supplies, female care products, and diapers. It's been truly rewarding to give back to a community that has given us so much," Ilan said.
The brothers told NBC 7 that working with the teen leadership program has opened their eyes to San Diego's sex trafficking industry.
A University of San Diego study estimated the industry generated $810 million in San Diego County in 2013.
"We were shocked by the true size and scope of human trafficking and the idea that children our age are exploited on a daily basis," Max explained.
During their school's lunch break, the Matkovski bothers set up a table displaying statistics about human trafficking for other curious students. Currently, it is San Diego's second largest underground economy, right after the illegal drug trade.
The 2016 USD study also discovered every year there are between 3,000 and 8,000 survivors of human trafficking, with the average age of victims at just 16.
Ilan says as their club continues to aid disenfranchised people all over San Diego County, they hope to organize a charity run to raise greater awareness of the city's underground sex industry.
Call is currently working on a documentary about San Diego's illegal sex trade.
Through interviews with law enforcement, industry professionals, and victims, she's hoping to make conversations about human trafficking more accessible.
"I want to create a visual representation of the epidemic that will stick with people," Call told NBC 7. "Now that we have social media teenagers are in a lot more danger due to unreliable cybersecurity. It's really affected me to see how young these victims are and how it can not only happen anywhere but happen to anyone."
In addition to the documentary, Call intends to establish a pen-pal program this year with trafficking victims who are recovering from their experiences.
"I want to help them integrate back into society. My hope is for this to create a support system for them and to also be an educational opportunity," Call said.
Using resources from San Diego Youth Services and JFS, Call is hoping to organize a group of girls from her school to launch the program.
She plans to capture the creation of the program as part of her documentary and will work to expand the program if it proves to be successful.
San Diego Youth Services offers mental health counseling, support groups, and other resources to young people who have been victims of the sex trade. To learn more about how to spot the signs of human trafficking, visit the U.S. State Department's website.